Keep on top of your workout schedule
We've launched the U JUMP Fitness app for iOS (App Store) and Android (Google Play) to give you an even easier way to book your next class. The U JUMP app has a number of features to make managing your membership simple:
Sign in with your U JUMP ID to manage your account
Book your training with the U JUMP timetable
Check how many classes you have remaining and when your membership expires
Review your check-in history
Before you use the U JUMP Fitness app
Before making a booking using the U JUMP Fitness app, there are a couple of important things you need to do.
Make sure your U JUMP membership is active.
If your membership was on hold during our closure, it has been taken off suspension already. If you've used your classes, or if your membership has expired, now is the perfect time to join again. Let us know how many times a week you want to train, and we'll recommend the best membership pack for you!
Make sure we have your current email address on file.
You will need to register a user account through the U JUMP system to be able to log into the app. You can set that up here through our online booking tool, or on the app itself. IMPORTANT: The email address you use must be the same as the email address we have on file. If you need to change it, or check it, please contact us.
Download and install the U JUMP Fitness app on your smartphone. Choose one of the following options:
Open the app and log in using your details.
When you first open the app, click on the Setup New User option.
On the next screen, enter all your details. IMPORTANT: Make sure you enter the email address that we have on file (see step 2). You can enter any password you want here, but make sure it's secure.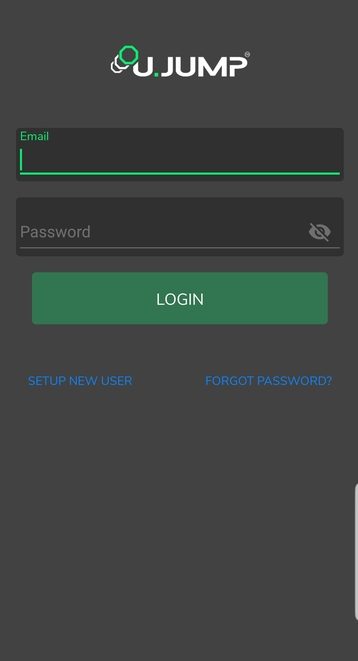 You will be now registered and logged into the app. You will be able to book classes that are available for your level of membership.
Bookings can be made up to one hour before the start of U JUMP. You can cancel a booking up until 12 hours before your session. Voucher users and PRO Jumping Fitness members will forfeit one session if they do not show up to class or cancel within the 12-hour cancellation window.
Have questions about using the U JUMP Fitness app? Send us a message here.
Please familiarise yourself with the PRO Jumping Fitness Terms & Conditions before you purchase a membership and be aware of the expiry date for your class packs.
Purchase a U JUMP membership
Buying a casual pass, class pack or setting up direct debit for U JUMP is easy with the U JUMP Fitness app!
Step 5 - Purchase a casual pass or class pack
To purchase a casual class pass or class pack, start by opening the U JUMP Fitness app. Bring up the U JUMP timetable. Click on the date where you'd like to make your first booking.
The screen that opens will encourage you to purchase a visit pass to book your class. Choose from a casual class pass, or one of our 5, 10, 15 or 20 class packs.
Please note that both casual passes and class packs have different expiry periods. For more information, visit our Terms and Conditions page.
You can also purchase a casual class pass or class pack through our online timetable. Click here to open the timetable.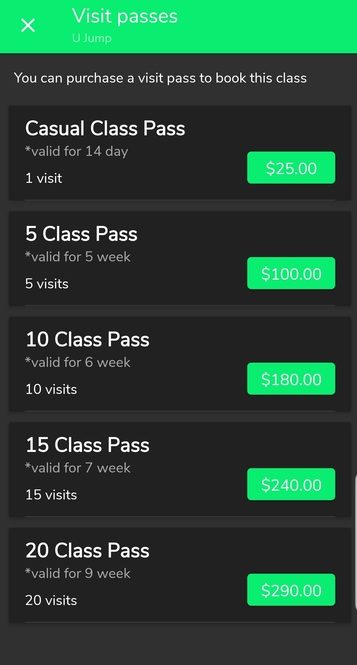 Step 6 - Set up direct debit
If you love U JUMP and can see yourself attending regularly, you might get better value from our direct debit option.
For just $35.90/week, you can access up to 3 classes every week! Our direct debits are set up as 6 or 12-month contracts.
To set up a direct debit for U JUMP, click the menu bar on the left of the app. At the bottom of the menu above Settings, click External links. This section will display three options:
Pro Jumping Fitness (our website)
12 Month Lock-In Membership
6 Month Lock-In Membership
Choose either the 12 or 6-month lock-in membership to open the external direct debit form. If you have questions about direct debits or run into issues with setting up payments, let us know.