ABOUT PRO JUMPING FITNESS
"Everything we do is connected to building a healthy, fit, safe, successful, educational and fun way of life"
We're on a mission to revolutionise fitness
Hi there. You've found Pro Jumping Fitness, Australia's original company dedicated to fitness trampolines.
For over 14 years, we have exclusively focused on helping people with a program to improve their fitness.
Today, Pro Jumping Fitness' unique U JUMP workout is not just Australia (and the world's) most original and best fitness trampoline class, but also a powerful and effective way to manage your health, no matter your age or ability.
U JUMP has its roots in Germany and Europe and has finally made it to Australia.
Pro Jumping Fitness offers an education program for trainers looking for new ways to help clients achieve their fitness goals.  For businesses, the opportunities are endless with new training options and selling and hiring the original Pro Jumping Fitness trampoline, proudly backed by Australian Made.
Trampolines are available for hire in Western Australia and for sale across Australia.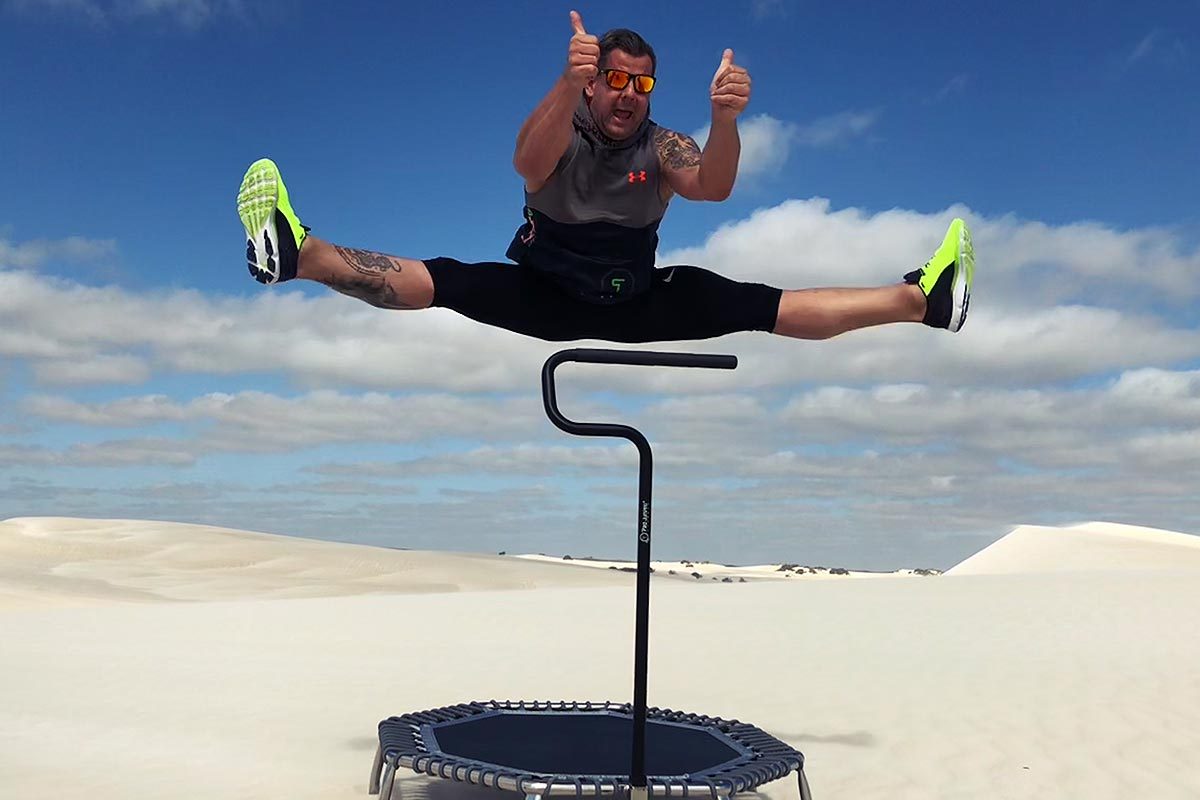 We're a purpose-led company. That means we haul ourselves out of bed each day to help our customers train, build gym fitness offerings, and educate the next generation of group fitness leaders.
Each year, consumers are becoming increasingly aware of the benefits of physical activity, and with that, interest in fitness and exploring new trends are exploding. Today's client is more health-conscious and is seeking new ways to change their routine - which is where Pro Jumping Fitness comes in.
We're led by our founder, Mark Graaf, whose background in Clinical Psychiatry specialising in Nutrition Science has driven Pro Jumping Fitness to where it is today.
Mark's experience working with clients from all health backgrounds, including those with obesity, was the driver for creating a low-impact cardiovascular training option that would support clients in the medical field and grow to become Australia's most unique fitness movement.
Mark completed his studies in medicine at university, specialising in Clinical Psychiatry and nutrition science and focusing on food disorders. "I realised a real problem existed for obese clients (200kg+) who wanted to lose weight. How could they train safely when their whole body was sore and in pain? I looked into low impact exercises, and this was when I came across trampolines," he said. The next challenge, of course, was finding appropriate equipment. "I looked at the market and tried to find suitable trampolines, but none were high enough quality or suitable for people who were overweight. That's when we decided to build our trampoline."
Four years of research followed to determine the best materials to use and work with university experts in medicine, gynaecology, radiology, physiotherapy, and sports medicine. "I was lucky to work with people and resources within the university to examine the functionality of movement on the trampoline and the impact on joints," he said. "My time working with experts in sports medicine has helped us develop the programs we have today."
Today, Pro Jumping Fitness has become the market leader in trampoline group fitness. "We never thought that we'd create something so big," he said. "From the start, our plans were for clinical use and more focused on the patient, but it's been amazing to see that grow."
"I have always trained alone with music, and it's a major part of my life. While working with clients, I started to incorporate music into the exercises. My clients' families came to visit and could see the benefit and joy that came from working out on the trampoline with music, and asked if we could run a class."
In 2007, the Pro Jumping Fitness brand and U JUMP workout were born.
The safety of our clients is more important than anything, which is why we spent thousands of hours developing our unique trampoline, which offers comfortable, low-impact movement. No matter whether clients are overweight, new to fitness, or seasoned gym-goers, anyone can train and feel confident on a Pro Jumping Fitness trampoline.
Today, the work we do is connected to building a healthy lifestyle. Our U JUMP classes attract clients from all backgrounds, fitness levels and ages who love the low-impact workout. Classes are also suitable for clients in rehabilitation after injury and for seniors.
U JUMP can also be used in schools as a physical education incursion option. It's also the perfect off-season training opportunity for athletes.
Are you looking for a team-building opportunity for your staff or end of year windup? Hire us for your next company event!
If you have questions about how we can help build your fitness offering or new training routine, we'd love to hear from you.